Pulled into ML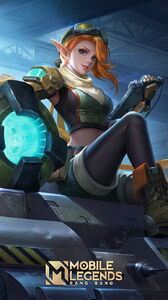 Well, I got pulled into Mobile Legends today. Or I slowly walked myself in I suppose. I had joined the ML Discord server just to read up on news about the game. I had seen that my favorite hero before I'd left, Lolita, had a nerf at some point. Not sure why since I didn't realize she was overpowered. Maybe some other recent change was too much.
So then I decided to just research if there were any new skins for Lolita. Sure enough, I saw that there was one that you could get for the first time recharging during S16. I was in a panic. I didn't know what season it was. I thought I had seen something about S15 on the Discord server, but I wasn't sure. And therefore I decided to step into ML.
I had to wait for a bunch of resources to download. Eventually I did get to the skin and went through all my other prizes since I was away. Apparently my Starlight subscription lasted awhile during my absence. I decided to renew it for the new Lesley skin, which looks cool. Oh man, I'm so addicted still. I think I'll eventually try playing again.
But what really got me was all the messages I started to receive when people saw that I was online. They were all about missing me. Nothing about accusing me and being angry with me. That group accepts me so fully. I've never quite felt that way and I miss it. But also feel guilty so much the more...